There are bottles from Memphis that we haven't found yet  and some that we have found and would love to find again. Here is a list of some of these Memphis Greats ! Also you might note that these bottles don't necessarily have to come to us in this order. 
1. Wiggs Bros Bitters 
This is the Best Memphis Bitters and the best Memphis Bottle. This bottle has almost the same mold as a Drakes Plantation Bitters. We have found one of these without the embossing - what a terrible shame. There is one of these known with the embossing . I have a dream.......
2. Amber Barrel Mansfield Highland Bitters and Scotch Tonic
(This bottle comes in a pontiled or smooth base also in Olive Green or Yellow Olive. Wouldn't it be super awesome to find one in a Cobalt Blue !! $$$ - We're still looking for any of these including the "Blue One")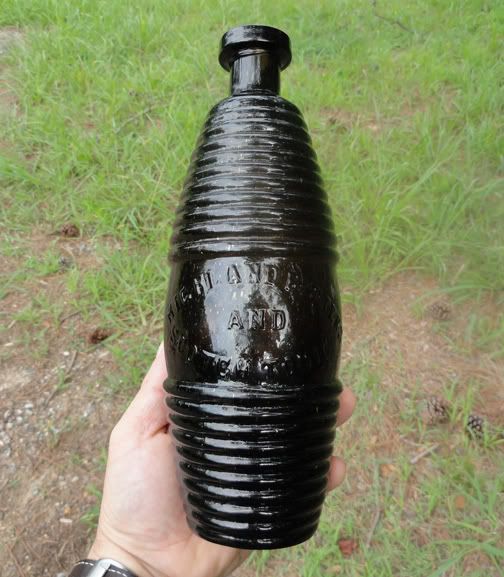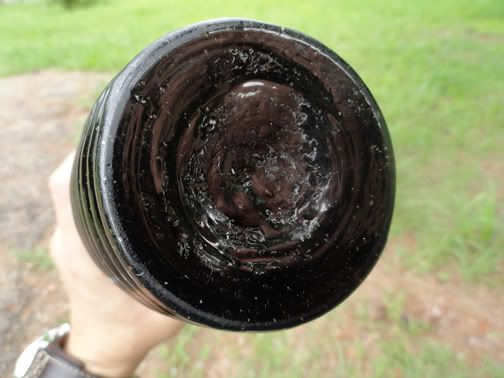 3. Memphi Bitters 
None of these have seen daylight as of yet, but an early Memphis Directory shows that they do exist. Memphis had a Mardi Gras that started in 1872 and ended early somewhere around 1882 because of the Yellow Fever epidemic in 1879. They started sending out the invitations in 1873 and called it the "Memphi Invitational". It was during this time when this bottle came out. We would love to find this Great Bitters from Memphis !
4. Sambuchetti & Bianchi Pumpkinseed Flask
I believe this is one of only a couple known Memphis Pumpkinseed flasks and there is only one of these known.
5. Metcalfs Mineral Water Blob
There are 3 different varieties of these (from 3 different molds) & also they came in an iron pontil and open pontil.
6. Olsen & Co. Cobalt Blue Blob Soda
We have found one of these before, but knowing that this one is the best Memphis Soda and that only 4 or 5 are known to exist, we would love to find another one.
7. Yellow Olive Green 2 Lords & Diehl Blob Soda
 We found a broken one of these. I have never seen this color before in a Blob soda in Memphis or anywhere. It would be a great one to find.
8. Amber 2 Lords & Diehl Blob Soda
We have found one of these before and would like to find another. This is a rare Memphis soda in an awesome color.
9. P. Towhig Cream Ale 6oz
(misspelled-correct spelling is Twohig) We found the only known example and would love to find more. It is a super rare ale bottle - I would say that this one and the Wormley are the best ales from Memphis.
10. Madewell Blob Soda 
Another very rare Memphis Blob. Only 3 or 4 have been found of this one.
11. Our Own Southern Bitters C.H. Ebbert & Co.
A very rare bitters from Memphis.  On the panels " O O S B". There were 2 different molds for this bitters ; a paneled and a non - paneled.
 12. T. F. Meagher Hutchinson Soda
A very rare Hutchinson soda . Probably less than 5 known. A great one for someone to find !
13. Union Bottling Works Hutchinson Soda
This one is the only known extra tall hutch from Memphis and very few of these known.
 14. F. W. Cook Black Glass Ale
Probably less than 15 known. These  also come in other colors like Black amber & Black Olive Green, Olive Green , Yellow Olive Amber ... We have found a Black Glass Olive Green, B.G. Amber, and an Olive Green. A great desirable Ale from Memphis.
15. Wormley Large size Amber Squat Ale
A friend of mine has the only one known. It would tickle our fancy to find one of these , although it would do nothing for his.
16. Mansfield New Style Highland Stomach Bitters & Scotch Tonic 
 A very rare bitters from Memphis. Only a few of them are known. We have been fortunate enough to find one and maybe we'll find another. 
 17. Williams & Ross Victoria Tonic Bitters
Another great Bitters from Memphis. We have found 1 real nice one and another with a crack on the lip. We would love to another one of these. Very desirable.
 18. Merry Xmas 1897 O.K. Robertson The Grocer Mini Jug
This was a great mini Jug. We found 5 of these unknown little jugs and thats all that have been found. It would be nice to find another one of these. OOOWEEE !! It might just happen !
19. Green Creighton's Yellow Dock Medicine iron pontiled
This would be one of the best Memphis Medicines. A very few of these have been found and it would really look good in my hands !
 20. Rarest Memphis Pepsi
  And of course this raging beauty. They are very hard to find - especially whole and looking like this.
The fact is that there are many more bottles from Memphis that have not turned up yet. We have found several pieces that  weren't known ; like the " McGowens Essence of Jamaica Ginger (almost whole) and the nice bottle that Buddy got ; " Brown's Iron Tonic Remedy " . There are lots of Mini Jugs that haven't been found yet and lots of Gallon & Half Gallon Jugs from the "Turn of the Century". Not to mention I know that there are some Great early Memphis Jugs and Crocks out there.
What do ya got down there?
It looks like a pig and I think it says "Memphis Pig Bitters / 562 Main St." !