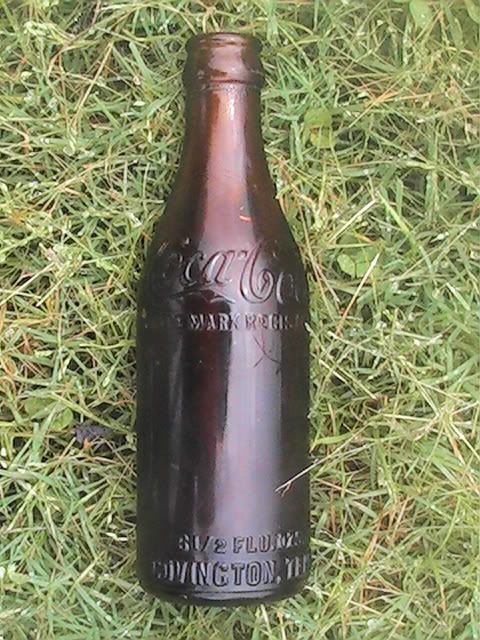 We sold this rare Covington Coke bottle on eBay . It went for $575. It probably should have gone for over a thousand.
 We sold this button on eBay. We had envisioned that it would go between for $4000 and $5000, but it went for a low price of $1800. Oh well, you win some and you loose some. Still not bad for a find! 
We sold this F.W. Cook / Memphis, Tenn Ale a few years ago on eBay for $1050. A great black glass ale bottle from Memphis. This bottle was so black that you look through it at the direct sunlight and barely see a hint of amber. 
We put this bottle on eBay and it did not meet its $800. reserve but did get up to $750.
 We sold this bottle for (I think) $560. on eBay. E. Schroeder / East St.Louis. A very nice squat ale bottle.
We sold one of these 5 little Mini Jugs for $2000.
They were unknown until we unearthed them out of a cistern.
thememphisdiggers sold a Clark & Fuller Ambrosial Oil pontiled Nashville bottle like this bottle for $443.00.
thememphisdiggers sold this pot lid a few years ago for $660. A rare one!
thememphisdiggers sold this bottle several years ago for $1278. on eBay! Mansfield New Style / Highland Stomach Bitters / Scotch Tonic
James A. Newtons / Cure for Croup (open pontiled) - We dug this bottle from 16 feet down. It sold for $561.
thememphisdiggers dug this 1860s police whistle off the river bank. It went for $65.00 on eBay.
This amber Eclipse Carbonating Hutchinson Soda went for $202. on eBay.
We dug this bottle from a privy - down about 11 feet.  It is the best Blob soda from Memphis. One that we long waited for. It went for $1677. on eBay !
This was a great find in a early 1880s trash dump. Memphis Brewing Co. They were in business from 1877 'til the Tennessee Brewing Co. (John Schorr) bought this small brewery in 1885. This bottle is a "one-of-a-kind" in this under quart size (I think 24oz.). It sold for $500.
 We had fun digging in Arkansas. We found 22 half gallon jugs (mostly brown) in probably a space of about 4' by 3' - I mean they were stacked on top of each other. It was great fun! Then we came across this beauty. It went for $411. on eBay.
Here's another nice Pitcher from the same dump. $410. on eBay. 
There will be new additions added soon!